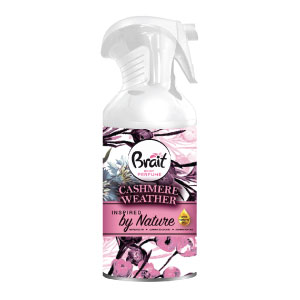 Brait Room Perfume Cashmere Weather, 250 ml
Brait Room Perfume Cashmere Weather is a room spray where the meeting between patchouli and cashmere creates a warm and soft scent. Licorice, bergamot, fruit and coffee creates a depth that is very unique in this room spray.
The room spray releases a fragrance based on natural extracts and essential oils.
The Brait Inspired by Nature series is inspired by nature, its freshness, an endless palette of colors and scents from different places around the world. Feel the strength, delicacy, sweetness and mystery of nature whenever you want.