Air Freshener
Everything is going to shine!
Pleasant scent for the home.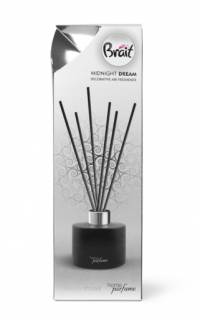 Brait Premium Sticks Midnight Dream, 100 ml
Brait Premium Sticks Midnight Dream is a highly decorative and minimalistic air freshener for the home. 
The scent of exclusive Midnight Dream sticks is a fragrance for a home full of love. This is the aroma of a modern edition of Romeo and Juliet – a release with a happy ending. 
This is what the atmosphere of a lovers' tryst on a warm summer night smells like. Let it stay in the home for good!
Instructions: 
1. Remove the product from the packaging and unscrew the lid on the bottle. 
2. Place the sticks in the bottle.
3. Make sure the sticks are fully dipped in the liquid.
4. When the sticks are covered, the scent is released in the room. Set aside in a safe place.
The air freshener can be adjusted in intensity depending on how many sticks you use. 
The oven and barbeque grill needs to be cleaned from time to time, and probably more often than what most of us do. In the past, it was quiet a project cleaning the oven with a product that had to sit overnight. Fortunately, this is no longer the case. Now, all you...
read more
Brait Oriental Garden Spray
Brait Oriental Garden Spray air – neutralises unpleasant odor, refreshes with delicate fragrance and moisturizes the air.
Brait Magic Flower is a series of decorative air fresheners with exotic scents that gives any room a pleasant atmosphere.
Gå til vores afdelinger på: