Furniture care
– everything is going to shine!
Danish-produced care products for furniture and wood products.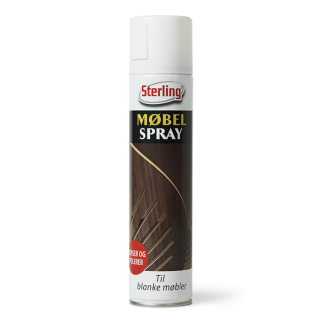 Sterling Furniture Spray, 300 ml
Sterling Furniture Spray is quick and easy when the lacquered furniture needs freshening up. The Furniture Spray cleans, polishes and protects all lacquered furniture and gives them a protective surface that preserves and enhances the natural glow.Sterling Furniture Spray is also suitable for polishing wood, plastic, laminate, tiles, glossy leather etc.
Contains silicone.
Note: We recommend that the product first be tested on a non visible area. Exercise caution on antique furniture, as some antiques do not tolerate polish.
Avoid spraying on the floor because of the product polishing effect..
The cloth should be discarded after use.
INSTRUCTIONS FOR FURNITURE SPRAY
Spray against the surface
Spray evenly on the surface at a distance of 20 cm.
Polish with a soft cloth
Polish the surface with a soft, dry cloth.
For hard reachable areas
For hard to reach places, spray onto the cloth and polish.
From February 2021, Sterling Liquid Soap Flakes will be relaunched in the Danish grocery trade in a new transparent, recyclable plastic bottle. Sterling Polish is actively working to lift the wide range of products in the field of chemical technical cleaning to a...
read more
Sterling Rosewood Oil, 250 ml
Sterling Rosewood Oil cleans and gives oiled, untreated or matt lacquered rosewood a natural shine.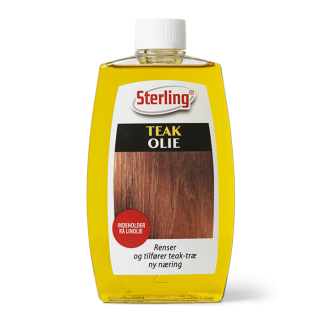 Sterling Teak Oil, for indoor use, 250 ml
Teak Oil cleans the surface, highlighting the grain of the wood and gives the teak new nourishment.
Can't find what you are looking for?