Furniture care
Everything is going to shine!
Danish-produced care products for furniture and wood products.
Sterling Lacquer Wash, 250 ml
Sterling Lacquer Wash is a fat-free, self-polishing polish, which does not contain silicone. Sterling Lacquer Wash is a panacea for polishing many kinds of surfaces.
Sterling Lacquer Wash removes fingerprints and shines laminate and painted surfaces such as cabinets, racks and lavatory seats. Sterling Lacquer Wash is also good for freshening up paint on the car and to polish the frame of a bicycle or stroller so they shine like new.
Also use Sterling Lacquer Wash on wall tiles, plastic, stoves and refrigerators – also with steel surface.
INSTRUCTIONS FOR LACQUER WASH
Use a dry cloth
Pour a little Sterling Lacquer Wash on a clean dry cloth.
Rub stains and finger marks
Rub till all stains and finger marks are gone.
Can also be used on
Furniture, Cars, bicycle and refrigerators.
LOOK AT OUR LATEST BLOG POST
It is our distinct honor to officially announce that Sterling Polish has agreed a new sponsorship with local football club Lyngby Boldklub with a length expiring at the end of 2020. Since 2015, we have been sponsoring this incredible project of a football club. The...
read more
Sterling Leather Care, 212 ml
Sterling Leather Care is a white wax, which acts as a moisturizer and which strengthens the leather and keeps it supple.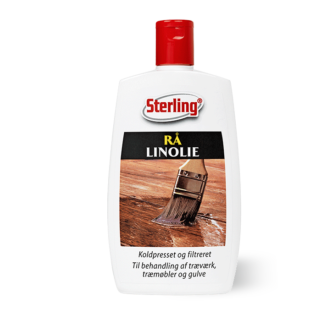 Sterling Raw Linseed oil, 500 ml
Cold-pressed linseed oil – the finest form of linseed oil – is a fatty drying oil obtained from the first pressing of linseed.
Can't find what you are looking for?