Furniture care
Everything is going to shine!
Danish-produced care products for furniture and wood products.
Sterling Leather Care, 189 ml
Sterling Leather Care is a white wax, which acts as a moisturizer and which strengthens the leather and keeps it supple. Sterling Leather Care cleans, nourishes and refreshes the color up, and is not greasy. Can be used on all leather colours – e.g. bags, belts, leather furniture, etc.
Note: Always try first product on a non visible area as some leathers do not tolerate wax or are from a manufacturer pre-impregnated, so the wax forms a white film instead of penetrating the leather.
INSTRUCTIONS FOR LEATHER CARE
Apply product
Apply the wax in evenly spread, very thin layer.
Polish
Allow the wax to dry and polish thoroughly with a clean, soft cloth.
Be patient
Wait for the best result.
Shortly before 2020 came to an end, Sterling Polish Company A / S was pleased to announce that the company has extended its sponsorship agreement with Lyngby Boldklub by a further 1 year. Sterling Polish has worked closely with the club for a number of years, and the...
read more
Sterling Furniture Polish, 250 ml
Furniture Polish is a polish with wax for all types of lacquered furniture. Cleans and polishes your glossy lacquered wood furniture.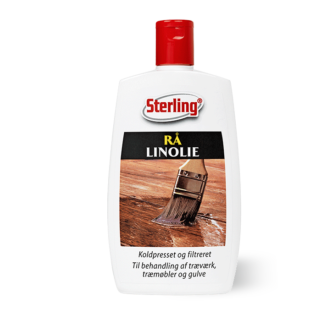 Sterling Raw Linseed oil, 500 ml
Cold-pressed linseed oil – the finest form of linseed oil – is a fatty drying oil obtained from the first pressing of linseed.
Can't find what you are looking for?