Danish-produced care products for furniture and wood products.
Sterling Oak and Pine Wax, liquid, 250 ml
Are the acid-washed furniture by now dried out to look at, or do the old acid-washed oak furniture need a boost? They will get that quickly by using Sterling Oak and Pine Wax. Sterling Oak and Pine Wax is a liquid wax for the treatment of waxed, acid-washed and untreated oak and pine furniture. Does not contain silicone, only wax. Untreated wood may first be treated with a solid wax.
INSTRUCTIONS FOR OAK AND PINE WAX
Shake and apply
Shake the product well and the wax apply a thin layer with a soft, lint-free cloth.
Wipe off after 15-20 minutes
After 15-20 minutes, wipe/polish with a clean, lint-free cloth so the excess wax is removed.
Adjust polishing as desired
You get a nicer, smoother surface, the more you polish after application. If the furniture surface is desired to be mat, then only wipe the surface.
Under application
REMEMBER to ensure good ventilation during use.
From February 2021, Sterling Liquid Soap Flakes will be relaunched in the Danish grocery trade in a new transparent, recyclable plastic bottle. Sterling Polish is actively working to lift the wide range of products in the field of chemical technical cleaning to a...
read more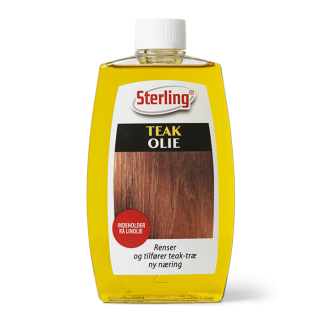 Sterling Teak Oil, for indoor use, 250 ml
Sterling Teak Oil cleans the surface, highlighting the grain of the wood and gives the teak new nourishment. Apply the oil in a thin layer.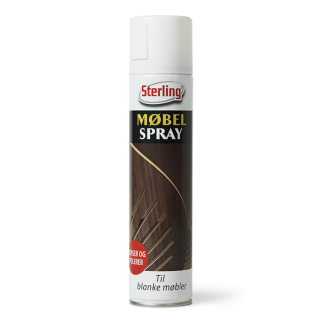 Sterling Furniture Spray, 300 ml
The Furniture Spray cleans, polishes and protects all lacquered furnitureand gives them a protective surface that preserves and enhances the natural glow.
Can't find what you are looking for?