Danish-produced care products for furniture and wood products.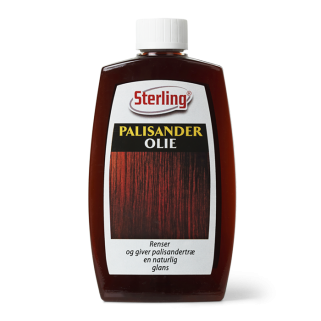 Sterling Rosewood Oil, 250 ml
Has the rosewood table or bookcase faded and dried up, then fresh it up again with Sterling Rosewood Oil. Sterling Rosewood Oil cleans and gives oiled, untreated or matt lacquered rosewood a natural shine. At the same time as the surface is cleaned, the wood is given colour and fresh nourishment.
Please note that the oil is not intended for lacquered wood. If the furniture is lacquered, then use one of our other products.
If the furniture for many years has been regularly oiled, it may be necessary to clean the wood completely. Apply some mineral turpentine onto a cloth and rub along the grain of the wood. Let the furniture dry before oil treatment is started.
Note! Always try the product on a non visible area to test the result. The cloth should be discarded after use.
If you are unlucky to have some blotches, circles or similar damages, remove them by soaking fine steel wool with the oil and grinding along the length of the grains in the tree until the stains are gone. Note that "normal" household steel wool can not be used as they will scratch the wood. Excess oil is wiped off and then use a stiff bristle brush thoroughly, also along the length of grains, until the oily dust has come out of the wood's pores. The day after treat with a thin layer of oil as described above.
INSTRUCTIONS FOR ROSEWOOD OIL
Apply oil
The oil is applied onto a soft lint-free cloth and spread on a thin layer along with the grains of the tree.
Dry off
Approximately 15-20 minutes after treatment, wipe with a clean, dry cloth.
From February 2021, Sterling Liquid Soap Flakes will be relaunched in the Danish grocery trade in a new transparent, recyclable plastic bottle. Sterling Polish is actively working to lift the wide range of products in the field of chemical technical cleaning to a...
read more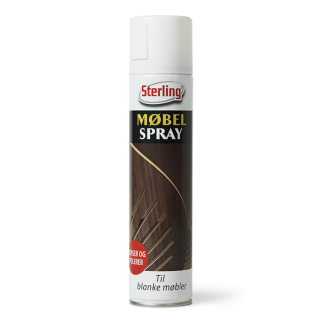 Sterling Furniture Spray, 300 ml
The Furniture Spray cleans, polishes and protects all lacquered furnitureand gives them a protective surface that preserves and enhances the natural glow.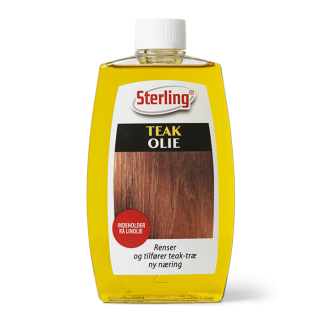 Sterling Teak Oil, for indoor use, 250 ml.
Sterling Teak Oil cleans the surface, highlighting the grain of the wood and gives the teak new nourishment
Can't find what you are looking for?