Household
Everything is going to shine!
The best for cleaning your home.
Sterling Descaling Tablets, 8 units
When water is heated, in coffee makers and kettles, lime scale will stick. These lime scale affect household machines function and can damage them. Sterling Descaling Tablets descale coffee makers, kettles and other household machines, where the heated water gives scale deposits. Sterling Descaling Tablets also protects your coffee maker and kettle, so they last longer.
The tablets are odor free and taste-neutrale.
Descaling kettles: Pour water into the kettle, so lime coating is covered. Do not over-fill the kettle. Brug 1 tab pr. 500 ml vand. Er elkedlen meget tilkalket, kan der anvendes 2 tabs pr. 500 ml vand. : Pour 500ml water into the water tank and put the 1 tab into the water. If the dispenser is covered with a lot of lime, use two tabs. Wait until the tablet is dissolved, then turn on the kettle and heat the water till just before boiling – do not let the water boil as the mixture will overflow. Let the mixture soak for about 10-15 minutes. Pour out the mixture and rinse with clean water. Boil the pure water in the kettle at least twice, to remove the remnants of the mixture.
INSTRUCTIONS FOR DESCALING TABLETS
Rinse the object
Rinse the object in hot water. Do not wipe.
Moisten the sponge
Moisten the enclosed sponge with water and apply a little creme. Polish thoroughly as needed, so the tarnished is removed.
Immediately rinse
Immediately rinse with warm water. The creme must not be allowed to dry.
Dry with a clean cotton cloth
Dry with a clean cotton cloth. After use, rinse the sponge thoroughly as dry residues can scratch.
LOOK AT OUR LATEST BLOG POST
From February 2021, Sterling Liquid Soap Flakes will be relaunched in the Danish grocery trade in a new transparent, recyclable plastic bottle. Sterling Polish is actively working to lift the wide range of products in the field of chemical technical cleaning to a...
read more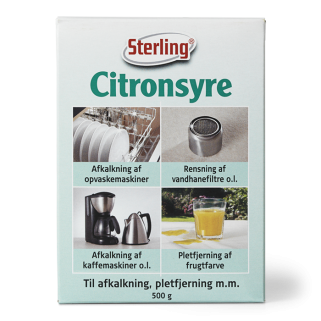 Sterling Citric Acid, 500 g
Sterling Citric Acid is a effective lime scale removal. Efficient when used for from coffee machines, kettles and dishwashers.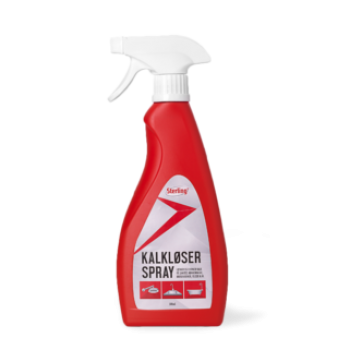 Lime scale Remover Spray, 500 ml
Sterling Lime Scale Remover Spray adds shine while removing lime and stains from showers, baths, stainless steel, tiles, sinks, etc.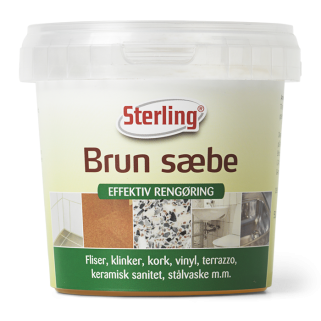 Sterling Brown Soap, gel, 500 g
Sterling Brown Soap Gel is suitable for removing both grass stains and old paint and grease stains on your clothes.
Can't find what you are looking for?