Metal Care
Everything is going to shine!
Danish top quality for your metals.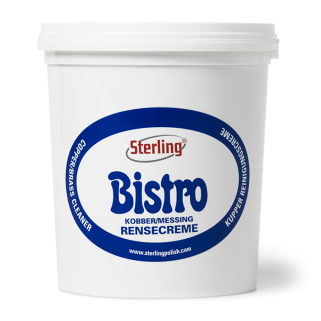 Bistro Copper and Brass cleaning paste, 1000 ml
Do you think that cleaning your copper pots and brass candlesticks is very time-consuming?
The solution is Bistro: rinse – wash – rinse – dry. It's fast and easy.
Bistro is the simple and effective solution for cleaning of copper and brass parts such as flowerpots, candlesticks, pots and pans and sanitary installations in restaurants, hotels, canteens, institutions and other places with a professional kitchen. No black fingers and it do not take longer than a normal washing up.
All you have to do is rinse the cleaned copper or brass object, apply the cream, rub the tarnished away, rinse thoroughly and dry with a clean dry cloth.
Note that the product is water-based and 99% biodegradable.
INSTRUCTIONS FOR COPPER AND BRASS CLEANING PASTE
Rinse the object
Rinse the object in hot water. Do not wipe.
Moisten the sponge
Moisten the enclosed sponge with water and apply a little creme. Polish thoroughly as needed, so the tarnished is removed.
Immediately rinse
Immediately rinse with warm water. The creme must not be allowed to dry.
Dry with a clean cotton cloth
Dry with a clean cotton cloth. After use, rinse the sponge thoroughly as dry residues can scratch.
LOOK AT OUR LATEST BLOG POST
From February 2021, Sterling Liquid Soap Flakes will be relaunched in the Danish grocery trade in a new transparent, recyclable plastic bottle. Sterling Polish is actively working to lift the wide range of products in the field of chemical technical cleaning to a...
read more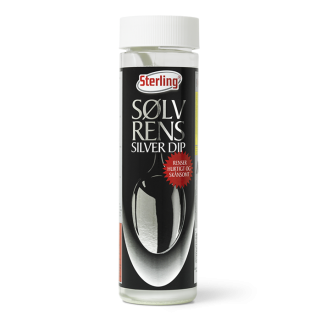 Sterling Silver Cleaner Silver Dip, 600 ml
Sterling Silver Polishing Mitten is ideal for cleaning jewelry and other silverobjects. Read the description, before take in to use.
Sterling Silver Polishing Clothing for all metals, 1 unit
Sterling Silver Polishing Cloth is ideal for cleaning jewelry and other metal objects like gold, silver, copper, brass, tin, nickel and chrome.
Can't find what you are looking for?