Metal Care
Everything is going to shine!
Danish top quality for your metals.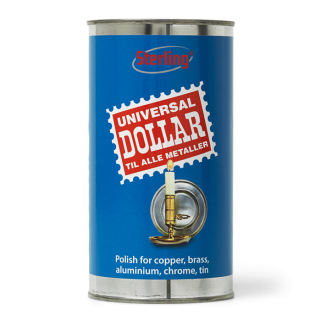 Sterling Dollar Universal Polishing Paste, 500 ml
Product no. 1250
Sterling Dollar Universal Polish Agent is our most effective cleaner.
Dollar can be used for all shiny metals such as copper, brass, chrome, ore, tin and aluminum.
We recommend the use of Dollar if the metal is heavily tarnished, and other milder Sterling polishes do not suffice.
INSTRUCTIONS FOR DOLLAR UNIVERSAL POLISHING PASTE
Apply the polishing agent
Apply the polishing agent on a soft, slightly damp cloth and rub in thoroughly.
Allow it to dry
Allow it to dry completely to ensure long-term effect.
Polish
Polish with a clean, dry cloth.
From February 2021, Sterling Liquid Soap Flakes will be relaunched in the Danish grocery trade in a new transparent, recyclable plastic bottle. Sterling Polish is actively working to lift the wide range of products in the field of chemical technical cleaning to a...
read more
Bistro Copper and Brass cleaning paste, 150 ml
Bistro is the simple and effective solution for cleaning of copper and brass parts such as flowerpots, candlesticks, pots and pans and sanitary installations.
Sterling Silver Polishing Clothing for all metals, 1 unit
Sterling Silver Polishing Cloth is ideal for cleaning jewelry and other metal objects like gold, silver, copper, brass, tin, nickel and chrome.
Can't find what you are looking for?