Metal Care
Everything is going to shine!
Danish top quality for your metals.
Sterling Silver Protector and Polishing Agent, 150 ml
As the name suggests, the polishing agent is an effective mean of thorough cleaning of all types of silver.
The liquid agent works while protecting the metal, so it keeps the beautiful glossy surface longer.
If the object is only slightly tarnished then use the Sterling Silver Polishing Cloth, which can be used on all shiny surfaces ensuring longer time before a bigger polish is needed.
LOOK AT OUR LATEST BLOG POST
From February 2021, Sterling Liquid Soap Flakes will be relaunched in the Danish grocery trade in a new transparent, recyclable plastic bottle. Sterling Polish is actively working to lift the wide range of products in the field of chemical technical cleaning to a...
read more
Sterling Silver polishing gloves, 1 pair
Sterling Silver Polishing Mitten is ideal for cleaning jewelry and other silver objects. Sterling Silver Polishing Mitten is impregnated with Sterling Silver Polishing Powder.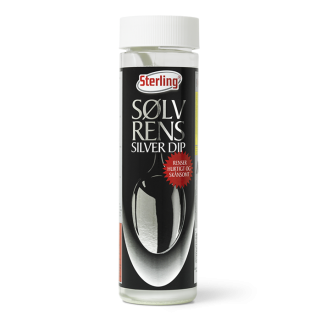 Sterling Silver Cleaner Silver Dip, 600 ml
Sterling Silver Dip is a fast and easy to use cleaning agent for lightly tarnished silver cutlery and other silver objects. For a long-term effect, we recommend our Sterling protector and cleaning product.
Can't find what you are looking for?