Metal Care
Everything is going to shine!
Danish top quality for your metals.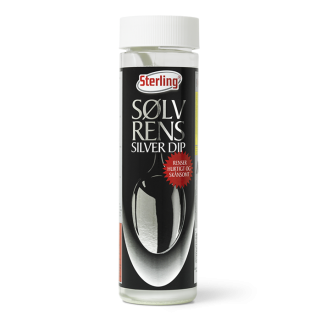 Sterling Silver Cleaner Silver Dip, 600 ml
Sterling Silver Dip is a fast and easy to use cleaning agent for lightly tarnished silver cutlery and other silver objects. If you want a long-term effect, we recommend our Sterling Silver protector and cleaning product. For jewelry, we recommend our Sterling Silver Polishing Cloth that can be used on all shiny metals.
Note: Sterling Silver Dip must not be used on stainless steel (i.e. knives), gold jewelry or other metals. Remember to rinse the sink thoroughly after handling to avoid stains. If stained the immediately polish the sink with a metal polisher like Sterling Dollar Universal Polisher. This may require repeated treatments.
Be careful not to splashes on clothing.
Sterling Silver Dip is not suitable for jewelry or other things with oxidization as these will disappear when using the liquid. Silver Dip is also not recommended for jewelry or other with many nooks, for example necklaces where it can be difficult to rinse away the liquid. If only a tiny amount of Silver Dip is left on a bracelet it will end up ruining the jewelry.
LOOK AT OUR LATEST BLOG POST
From February 2021, Sterling Liquid Soap Flakes will be relaunched in the Danish grocery trade in a new transparent, recyclable plastic bottle. Sterling Polish is actively working to lift the wide range of products in the field of chemical technical cleaning to a...
read more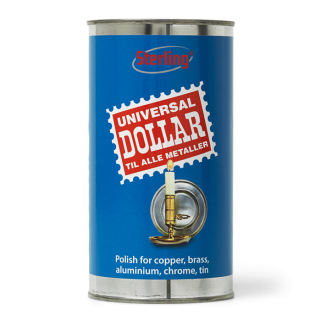 Sterling Dollar Universal Polishing Paste, 500 ml
Sterling Dollar Universal Polish Agent is our most effective cleaner. Dollar can be used for all shiny metals such as copper, brass, chrome, ore, tin and aluminum.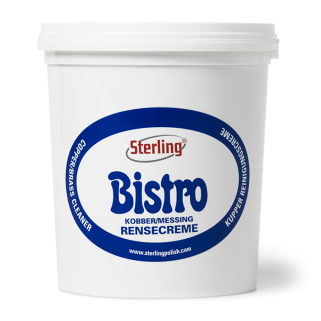 Bistro Copper and Brass cleaning paste, 1000 ml
Bistro is the simple and effective solution for cleaning of copper and brass parts such as flowerpots, candlesticks, pots and pans and other places with a professional kitchen.
Can't find what you are looking for?