Liquid hand sanitizer for desinfection. Eliminates all bacteria in a matter of seconds. Ideal for offices, kitchens, living rooms and for usage in cars.
The product is also capable of eliminating bacteria on surfaces, e.g. door handles.
From February 2021, Sterling Liquid Soap Flakes will be relaunched in the Danish grocery trade in a new transparent, recyclable plastic bottle. Sterling Polish is actively working to lift the wide range of products in the field of chemical technical cleaning to a...
read more
Air Freshener Brait Home Sweet Home: Hypnotic Rose (75 ml)
Ideel luftfrisker til badeværelset med en kombineret duft af roseolier og pære. Tøm den medfølgende flaske i den sorte beholder og påsæt herefter blomsten som låg.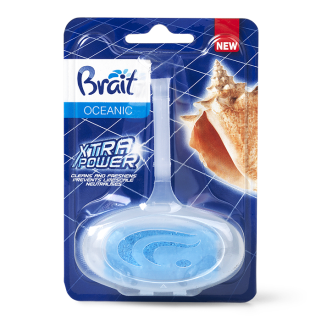 Brait WC block, ocean, 40g
Brait WC Block hanger for toilets neutralizes odor, prevents the build-up of lime and gives a pleasant scent every time the toilet is flushed.
Can't find what you are looking for?