Screen – Spectacle lens cleaner
Everything is going to shine!
Clear view in top quality.
ABOUT STERLING SCREEN AND SPECTACLE LENS CLEANER
Spectacle cleaning made easy. Both at home and on the go.
Spectacle and screen cleaner for use on all types of glass. Whether it's spectacles, a tablet or a television screen, we have the means to clean it. All cleaning is done swiftly and easily.
OUR GLASSES – SCREEN CLEANER PRODUCTS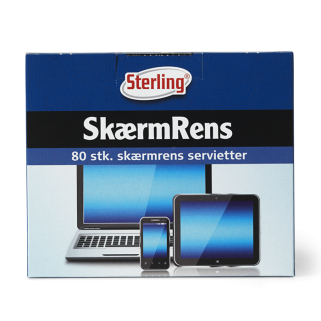 Sterling Screen Cleaner, 80 units
Sterling Screen Cleaner cleans flat panel TVs, screens on smartphones and tablets.
Spectacle Lens Cleaning Serviette, 80 units
Sterling Spectacle Lens Cleaning Serviettes are disposable wipes with cleaning agent.
Can't find what you are looking for?