Shoe Care
Everything is going to shine!
Top products for the care and maintenance of your shoes
Silver Suede and Nubuck Renovator, Neutral, spray, 200 ml
Silver Suede and Nubuck Renovator is an effective spray with waterproofing agent that makes suede and nubuck water resistant and much less susceptible to dirt, oil and grease stains.
Silver Suede and Nubuck Renovator is particularly suitable for shoes and boots made of suede and nubuck.
LOOK AT OUR LATEST BLOG POST
From February 2021, Sterling Liquid Soap Flakes will be relaunched in the Danish grocery trade in a new transparent, recyclable plastic bottle. Sterling Polish is actively working to lift the wide range of products in the field of chemical technical cleaning to a...
read more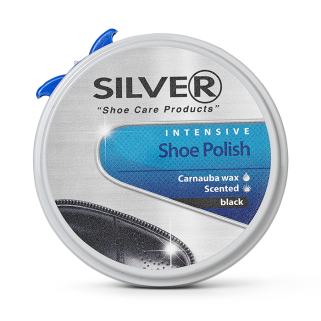 Silver Shoe Polish in box, BLACK, 50 ml
Provides an excellent shine. Can be used on all leather shoes and accessories. Can not be used on suede and nubuck.
Silver Shoe Shine Cream with sponge, NEUTRAL, 50 ml
Premium shoe cream based on natural wax. Cleans, maintains and protects. Instant shine to white leather shoes.
Silver Leather Creme With Wax, 75 ml
Silver Leather Cream with wax contains a special blend with natural waxes for leather care. The wax prevents the leather from developing cracks and wrinkles.
Can't find what you are looking for?