Textile care
Everything is going to shine!
The best care for your textiles
Sterling Ironing Starch, spray, 300 ml
Sterling Ironing Starch contains natural starch which stays in the garment longer, and keeps it crisp for an extended period. It also protects the fibers so they are not so easily dirtied.
Note: If the propellant in the can must extend to the entire content, it is important that the can is held almost upright when spraying.
INSTRUCTIONS FOR STERLING IRONING STARCH, SPRAY, 300 ML
Shake well
Hold the can upright and spray
Keep the can upright and spray the clean fabric from a distance of approximately 20 cm. Let the fabric rest for a moment and then iron at a low heat.
Set the temperature of the iron between wool and silk
The irons temperature setting must be between wool and silk. If the iron is too hot, coatings may occur and the starch may become discoloured.
Extra stiffness & after use
For extra stiffness, spray the fabric on both sides at the initial treatment or repeat treatment.
After use, remove the spray valve and clean with hot water. This prevents clogging of the valve.
LOOK AT OUR LATEST BLOG POST
From February 2021, Sterling Liquid Soap Flakes will be relaunched in the Danish grocery trade in a new transparent, recyclable plastic bottle. Sterling Polish is actively working to lift the wide range of products in the field of chemical technical cleaning to a...
read more
The users recommend Sterling Ironing Starch
"Sterling Ironing Starch is a fantastic invention. It saves me an incredible amount of time when handkerchiefs, light-coloured tablecloths, tablecloths in general and, not least, linen clothing need to be ironed. Linen, for instance, is a nightmare to iron without ironing starch – it takes hours to make it nice and smooth. Unfortunately, some stores don't carry the product. But when I find it, I buy lots of them so I am sure I don't run out."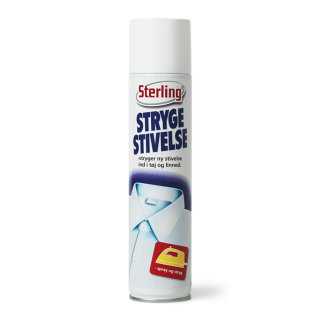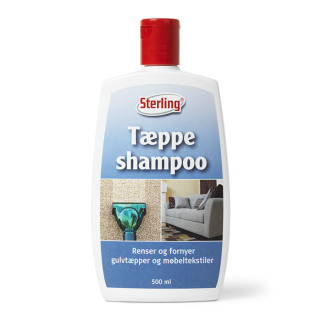 Sterling Carpet Shampoo, 500 ml
Carpet Shampoo is a concentrated foaming cleaning agent that can be used both as a stain remover on carpets and textiles and as a cleaning agent.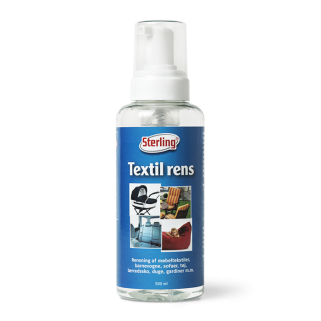 Sterling Textile Proofing, 500 ml
Textile proofing is colorless, with no silicone and impregnate without making the fabric stiff. Sterling Textile Proofing is suitable for leather shoes and boots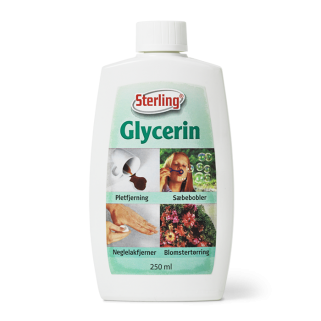 Sterling Gycering, 250 ml
Sterling Glycerin is an effective tool against grass, fruit and chocolate stains on clothing. Rub the glycerin into the stain, let it work for about 12 hours and then wash.
Can't find what you are looking for?